Legends of the fall: 5 current flagships with the longest battery life
40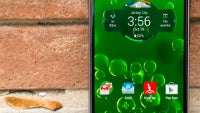 This year marks the death of one-day smartphone batteries. Starting with the
Galaxy S5
and
Xperia Z2
in the spring, manufacturers just hinted at what they will be capable to pull off later on. As the year unfolded, we saw our battery benchmark database log a threshold after threshold - last year the best marathon runners barely crossed the six-hour mark in our gruelling battery test, but in the spring they started passing seven, and even eight hours.
Six month later, and with most major fall flagships already announced and tested, we are seeing two-day, and even three-day battery life phones from major brands, which would have been unheard of just a year ago. Sony certainly deserves an honorable mention here, as it managed to consistently churn out slim and stylish phones with amazing battery lives, but a few others are wiggling in, headed by the excellent
DROID Turbo
achievement that we just measured. That is why we are rounding up the top 5 current flagships, ranked in terms of battery life, to help you choose if you are in the market for a weekend warrior with great specs.