Leather back plated phones? Go ultra-exclusive with snakeskin or sharkskin on the ultra-expensive GEMRY smartphone
15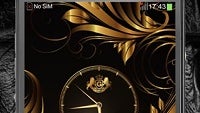 When you're rich and you know it, and you got to let everyone else know it, you buy the
most expensive
stuff you can find. Of course, nowadays, price does not equate to quality or even the newest most advanced products, it just means they are expensive, and therefore more exclusive.
We've shared images of titanium forged, diamond encrusted smartphones from the likes of Vertu, perhaps the most well-known of the luxury brands out there, and others. However, when catering to the hyper-rich, there are plenty of people willing to part with cash for a toy, or in this case, a gadget, and there are plenty of companies that make such products.
GEMRY appears to be just such a company. Touting its roots as a brand from Britain, GEMRY declares a tradition of integrating the "best technologies" and top shelf craftsmanship to create products that suit the demands of the luxury demographic.
However, this GEMRY is profoundly a Chinese-based concern, catering to the wealthy classes in Asia and Europe, with marketing that goes right to the heart of the ego, and makes a wonderful effort to polish up a roughly translated profile.
Now what should come as no surprise to anyone is that these luxury brands are all about what is on the outside. For between $2,400 and $4,800 (based on Chinese price listings and exchange rates, prices elsewhere are sure to be much higher due to VAT and other factors), you can get a rose gold, or diamond appointed, GEMRY R12 Mobile Phone, a symbol of "royal demeanor, accompanied by royal identity."
In addition to gold and diamonds, the back plate of the GEMRY can be custom made with a variety of animal hides, and additional precious metal panels. Perhaps you favor raw python leather for the back plate, or shark, or lizard? Crocodile is standard.
Like other luxury brands, GEMRY also offers classes of concierge services, available to carry out your whim at the touch of button, from managing travel arrangements, to general knowledge assistance, to legal aid.
For technophiles though, it's what's on the inside that counts. How does the R12 hold up on the spec sheet? Well let's start with its dimensions, it is not a small device, nor is it light. It is over 6.5-inches tall, 3.25-inches wide, and just a hair over half-an-inch thick (167.5 x 83 x 12.85mm). That last spec is actually quite impressive when you consider the R12 packs a whopping 5,000mAh battery which GEMRY says is good for 360 hours (two weeks) of standby time. A cell that big makes the R12 weigh in at a hefty 10.4-ounces (295 grams).
The GEMRY R12 is powered by Android version…wait for it…4.1.2 Jelly Bean. The CPU is an unspecified quad-core Qualcomm Snapdragon tuned to 1.7GHz, which makes us think it's a Snapdragon 600 of the same cloth that powered the
HTC One (M7)
from 2013. Along for the ride is 2GB of RAM, and 32GB of storage. The display is 5.85-inches with no specified resolution. Oh yeah, there is a 13-megapixel main camera and 2-megapixel front facing camera to video chat with your butler.
As luxury brands go, the GEMRY's price tag is not that high on the ladder (which may foil the desires of those that must have the
most expensive
of everything), though its materials list and touted craftsmanship would have you thinking you were next in line for the throne. If you identify yourself among "nobles, billionaires, gold collar workers, and other high-grade mobile phone users," GEMRY has a diamond-encrusted rose gold smartphone with a massive-sized battery for you.
source:
GEMRY
Recommended Stories