Leakster claims some HTC One M9 batches have Gorilla Glass 3, not 4
52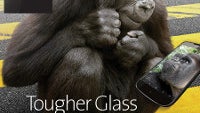 According to Corning, the maker of Gorilla Glass, the 4th iteration of its product offers
twice the protection of its predecessor
, Gorilla Glass 3. Seeing how damaged, or even shattered, displays are a large enough issue for most people, double the protection sounds like a compelling reason to choose a device with Gorilla Glass 4.
The HTC One M9's 5-inch, 1080 x 1920 IPS display features Gorilla Glass 4, or so we were told. Serial leakster
@upleaks
, however, now claims that only some batches of the One M9 (and M9+) come with the latest edition, while others make do with Gorilla Glass 3. The way we see it, the proof here is some sort of heavily redacted internal document, likely meant for HTC customer reps. Since our OCR attempts to grab the text from the image provided inconclusive proof (we don't read Chinese, unfortunately), we can't really confirm if the evidence (which may very well be fake or doctored) really points to the same thing. However, given
@upleaks'
splendid track record, specifically on things HTC, we're definitely intrigued by the possibility that this is actually true.
In reality, many manufacturers use functionally equivalent, but different, parts for their phones, depending on the batch, so this isn't exactly unheard of. Still, we reckon that most consumers would be upset to find out that theirs is from an unlucky batch with Glass 3. HTC refused to comment, citing a policy of not discussing
"speculations or rumors".