Leaked pics claim to be the iPhone 5S with curved display
57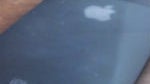 Okay, let's just get it out of the way right from the start: we are very doubtful that these images are legit, so we'd rather tackle this from a "would you be happy if it turned out to be real?" type of perspective. A couple of pics have come out that claim to be the iPhone 5S, although to us it looks more like a black Nokia Lumia 920 complete with a curved display.
There are a few things about these pics that jump out as trouble for us as far as believing they are real. First, it doesn't look like the iPhone 5. Apple may be leaving behind the yearly release cycle, but there's no indication it's going to start changing the hardware design of the S model releases. Second, even if Apple was going to change the design, there is no home button. Sure, there have been rumors that Apple would be changing the home button a bit, but we can't imagine Apple would remove it all together. Second, while the curved display looks great with the edge to edge design, it doesn't match the aspect ratio of previous iPhones, which would force developers to once again update apps for a new layout. Lastly, there is just something about the Apple logo on the back that doesn't look right.
All that said, what if this were real (even though it almost certainly isn't)? Given the rumors that Apple is working on a
deeper redesign of iOS
, what would you say to a new iPhone that updated both the hardware and software design fairly dramatically?
Recommended Stories