Leaked internal document confirms Verizon will hike ETF
This article contains unofficial information.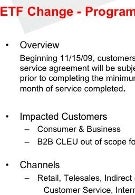 Yesterday we
passed along
to you a report that Verizon was going to raise their ETF on high end handsets. Today, there is confirmation of Verizon's plans in the form of a leaked internal document that BGR was able to obtain from a tipster. Starting on November 15th, those who buy an advanced handset will have to pay an ETF of $350. Every month that the line stays open, the fee will drop by $10, not the $5 we had heard on Tuesday. The wireless operator is hoping that such a prohibitive fee will prevent people from taking advantage of Verizons BOGO programs to sell an extra device on eBay while canceling the second unwanted phone line. Of course, if you are the type that sticks to a signed contract, then you really have nothing to worry about. For the rest, it looks like Verizon means business so perhaps you should think twice before running a scheme on them.
source:
BGR