Leaked image reveals Samsung GALAXY Note II pricing for T-Mobile
28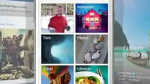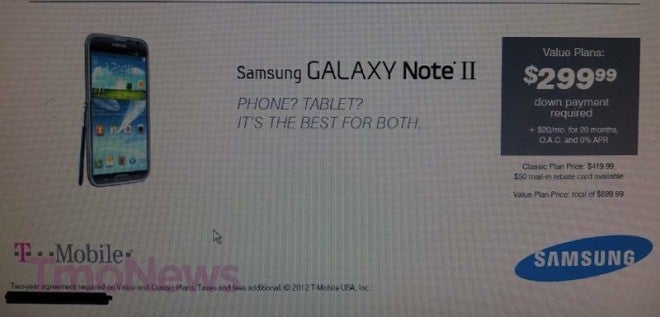 This leaked image could be revealing T-Mobile's price intentions on the Samsung GALAXY Note II
T-Mobile's price for the
Samsung Galaxy S III
, at $279.99, is $80 more than what the other major carriers are charging for the 16GB model. That comes close to the $70 price differential that will carry over to the
Samsung GALAXY Note II
according to a leaked image that shows the pricing of the phablet sequel by the nation's fourth largest carrier. According to the image, for
the Value Plan
the Samsung GALAXY Note II will be $299.99, which is a down payment. The customer will then pay $20 a month for 20 months for a total of $699.99.
But it is the Classic Plan where we can make our comparison to the other carriers. With this plan, the phone will cost $419.99 before a $50 mail in rebate takes the price down to $369.99,
$70 higher than the expected $299.99 price
that Verizon, AT&T and Sprint are expected to ask for the device with a signed two-year pact. Of course, depending on what plan you choose, at the end of the contract you might actually have paid less with T-Mobile overall even taking the $70 differential in the price of the phone into account.
As for a launch date, there are two periods of time that the Magic 8 ball seems high on. One is the October 24th-25th time frame while the other is the middle of next month.
source:
TmoNews