Leaked Samsung Stratosphere 2 specs reveal a larger screen, 8MP camera and Snapdragon S4 CPU
5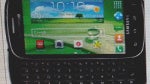 A wireless industry insider has leaked some of the specs of the upcoming
Samsung Stratosphere 2
for Verizon, and by the looks of it, the device shapes up as a good value-for-money proposition in the upper-mid-range.
Getting right to the point, according to our information, the Stratosphere 2 has gotten a bit sleeker and thinner compared to the original Stratosphere. The edges should also be more tapered. Although we don't know anything specific with regards to the screen size, we're being told that it will be slightly larger, which should mean something close to 4.3". The display resolution should be lower than HD, which leaves us with 480x800 or 540x960 pixels. Still, we wouldn't worry too much about clarity, as our source informs us that Samsung is going to use the Super AMOLED Plus technology, which, as you know, means a standard RGB matrix.
The handset will be powered by a dual-core Snapdragon S4 chipset, which is currently ticking inside most premium smartphones in the U.S. Sure, it might be "just" dual-core, but it has proven its prowess.
And what's a phone nowadays without a camera?! Well, it's obviously a phone without camera, but the one of the Stratosphere 2 will be 8MP with support for 1080p video, while the front-facing shooter will have 1.9 megapixels and will be capable of shooting 720p, and we all know what this means... animated self-portraits in 720p! Hooray!
Staying true to the original, the Stratosphere 2 will also have a side-sliding QWERTY keyboard, but by the looks of it, the design and layout have been preserved the same.
The Stratosphere 2 is expected to arrive running Android 4.0 Ice Cream Sandwich, but it shouldn't be (too) long before the update to Jelly Bean rolls out. Of course, TouchWiz will once again be on top of things. We aren't sure exactly which version, but something tells us it'll have a lot to do with Nature.
According to our sources, this Android smartphone should launch sometime during the next three months. Are you excited about this handset?
Thanks, anonymous tipster!
Recommended Stories