Leaked LG E906 smartphone might be a designer version of the Optimus 7
3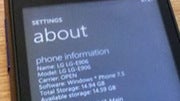 Designer handsets are nothing new to LG. After all, the Korean manufacturer added the
LG Prada
to its portfolio at a time when few phones dared to market themselves as a fashion accessory. Now, it seems like yet another designer device is baking in LG's kitchen, and if this handful of leaked photos is to be believed, it will be complemented by a very distinct Mango flavor.
The handset in the photos bears the LG E906 model name
and appears to be very similar to the
LG Optimus 7
(also known as the LG E900). However, there are a couple of noticeable differences between the two of them, which we must take into account. First of all, the leaked device is running Windows Phone 7 Mango meaning that it will deliver the most up-to-date experience that the platform has to offer. Besides that, the smartphone has been treated to a stylish outfit by German designer Jil Sander, which is a feature that is going to grab the attention of fashion-conscious consumers.
Unfortunately, we can only guess whether any tweaks have been done to the insides of the handset. If not, the LG E906 might be nothing more but a polished version of the LG Optimus 7 coming with the Mango update out of the box and with a designer logo slapped on it. Would this be enough to make the LG E906 stand out even though under its hood it packs last year's hardware? Well, we will definitely know for sure one day, as long as the smartphone hits the market.