Supposed iPhone 8 schematics reveal an LG G6-like device
99+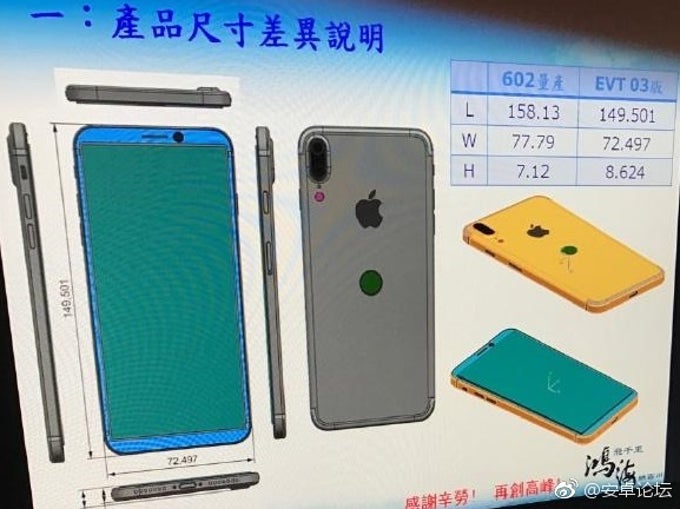 Ever since the original iPhone from 10 years ago, Apple's smartphones have had what we could call a signature design trait: large bezels (and, subsequently, unimpressive screen-to-body ratios). But this will probably change come September, when an
iPhone 8
is expected to be unveiled, sporting a near-bezel-less
5.8-inch OLED display
.
While we already tried to envision
what the iPhone 8 could look like
, we obviously can't be sure of anything until Apple officially announces the device. Nevertheless, a recently leaked image (coming from China, and seen above) allegedly shows technical drawings of an iPhone 8.
From the front, this alleged iPhone 8 looks a lot like an
LG G6
, though the rear and sides are totally different stories. Reportedly, the new handset measures 149 x 72.5 x 7.1, thus being about as large as the G6 (yet a tad thinner). Interestingly, there seems to be a fingerprint scanner on the back of the device, alongside a vertical dual camera - both these details are unusual for an Apple smartphone.
It's
An iPhone with a rear fingerprint scanner?
important to note that these schematics claim to show an iPhone 8 in its Engineering Validation Test (EVT) phase. This means that it's certainly not a final design, and, depending on what Apple decides - or may have already decided - such an iPhone might never make it to market.
Previous rumors had it that the iPhone 8 would feature a Touch ID fingerprint sensor embedded into the display, though
technical and production issues
may force Apple to abandon this idea. Thus, a fingerprint scanner on the back would make sense, since the front of the iPhone 8 should be mostly screen with little bezel (and no space for a regular Touch ID sensor).
As a reminder, the iPhone 8 could be announced in September, likely being joined by a 4.7-inch
iPhone 7s
, and a 5.5-inch
iPhone 7s Plus
.