Leaked Apple Pay training materials demo its ease of use, hint at imminent launch
5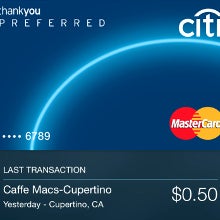 The
Apple Pay
training materials are out to store employees, and implicate that Apple has put a lot of thought in creating its new mobile payment network easy for users, and made employing it a breeze. You can enroll in Apple Pay during the initial setup of the phone, or later from the settings app, where a Passbook&Apple Pay category will beckon from.
Adding a credit card to the service will be as easy as linking the one you have for your iTunes account, or even easier, by just snapping it with the iPhone's camera. Yep, you can take a picture of your card, and the app will fill in the details, although the expiration date would most likely have to be keyed in manually. The 3-digit security number on the back won't be stored for obvious reasons. The icing on the cake, though, is that Apple doesn't simply scan and recognize some numbers on a card. It has apparently established partnership with major issuers, so once you connect a card with Apple Pay, the service will also show you a list of the latest payments with it, let you install the respective institution app, show bank contacts, and even update your new validity date automatically when your card expires and you get issued a new one, deleting the old account, and letting you know about that with a push notification.
You can not only easily buy, but also return goods and services with the same flexibility, simply touching the iPhone back to the EasyPay machine in the company's retail stores. The Apple Pay receipts will show no personal details anymore, just the last four digits of the account ID, and that's that. Moreover, any retail employee will be able to troubleshoot Apple Pay by determining if it is a hardware problem, or a bank-side issue, when you will be referred to the card issuer. The Apple Store peeps will be receiving an hour of mandatory training these days, indicating an imminent launch for the Apple Pay service,
perhaps as soon as this weekend
. In fact, the service is already operational at Apple's Caffe Macs employee cafeteria at its headquarters, but you can't buy a burger there just yet, unless you belong to the Cupertino company grind.