Leaked Android media player shows integration of cloud services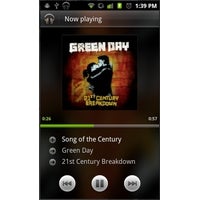 Uh-oh, somebody at Google's office was probably a bit distracted – distracted enough to let a handful of unfinished applications to slip out to the public through a supposedly developer build of the Android Market. The said test version of Google's software marketplace inexplicably landed on a
Tech from 10
member's smartphone so he decided to share his discoveries with the internet crowds.
The software available through the test Android Market failed to impress since pretty much all of it was not fully functional. However, one of the leaked preliminary apps did receive a bit more attention than the others – the
3.0 version
of the default Android media player. The app itself looked very similar to the media player found on Android 3.0 Honeycomb and was said to deliver a better overall user experience in comparison to the current default one. What was really interesting about the media player though was that it featured integration of Google's anticipated
cloud-based services
for storing music online and streaming it wirelessly after that. Of course, since Google's audio cloud is not open to the public yet, testing these features out was not possible.
It is no secret that Google's cloud services are on their way, the internet giant has some catching up to do with Amazon after all. If you are curious to see the leaked media player or the rest of the unfinished applications, a download link has been included for you below.
Link to the leaked APK files can be found
here
.
source:
Tech from 10
via
Business Insider