Leak reaffirms new Samsung tablets to provide 2560x1600 resolution, also Exynos 5 and Snapdragon 800 CPUs
62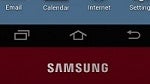 A tweet from the oft-reliable @evleaks revealed today that two new Samsung tablets are set to hit the scene, a 12.2-inch and 10.1-inch slab, each sporting 2560x1600 resolution.
The device noted as "SM-P900" will feature a 12.2-inch display and
Exynos 5 octa-core CPU
as well as
an S-pen.
The display will not break records in terms of pixels-per-square inch, but at 247ppi, you will not have any trouble making out any details while putting it to work.
The second device revealed as the "P-600" will go the Qualcomm route by way of a
Snapdragon 800
processor and will also have a 2560x1600 display at 10-inches, good for an excellent 299ppi. There is no mention of an S-pen though.
We first caught sight of these two tablets over the past couple weeks, where UAProf details emerged. There is a bit of conflict with what we knew then versus now however. We reported about a couple weeks ago
our first sighting of the SM-P900
and the screen resolution initially led us to believe it might have been a Galaxy Tab product. We then saw new
information only last week
that steered us away from that assessment. Today's information furthers that view.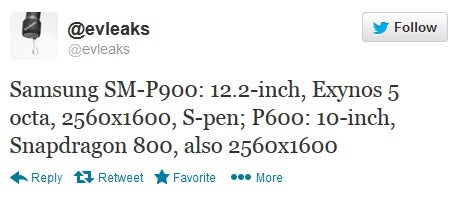 So what can be made of these devices? Well, with the SM-P900 it is possible that we could see it end up as a Galaxy Note "12," meant to compliment the large selection of Note products already available, the
Galaxy Note II
, the
Note 8.0
and
Note 10.1
tablets. While that is speculation, it is certainly not beyond Samsung to do such a thing given the number of products it already produces. In addition, all the latest Note devices run on Exynos CPUs.
As for the P-600, it is packing the same resolution as the
Nexus 10
and it is conceivable that this could be a run-up for the next Nexus 10 device. The current Nexus 10 runs a Samsung sourced Exynos CPU and if the new
Nexus 7
was breaking any ground by making the switch from an NVIDIA chipset to Qualcomm, perhaps that plan will cross to other Nexus devices. We shy away from the idea that it could be a new
Galaxy Tab 10.1
because of such a significant specification jump in screen resolution and chosen chipset. More will certainly be revealed as we get closer to a possible announcement about new Nexus hardware later this year.
sources:
@evleaks
and
PhoneDog