Samsung Android tablet UAProfs show up, could be high-end Galaxy Tab 3 10.1 Plus
14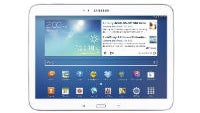 It looks like there is a new high-end Android tablet from Samsung on the way. Three new User Agent Profiles (UAProfs) have appeared that seem to line up with three different variants of the same tablet. UAProfs aren't the most reliable source of information, but if they are to be believed, it looks like a high-end Galaxy Tab 3 10.1 Plus could be on the horizon.
The three UAProfs are for the SM-P900, SM-P901, and SM-P905 devices from Samsung. They are expected to line-up with the standard tablet variants of 3G (SM-900), WiFi-only (SM-901), and LTE (SM-905). There isn't a lot of info in the UAProfs, but the big info in there is that the tablets have
display resolutions of 2560x1600
, which puts them on par with the Nexus 10. All of the tablets are listed running Android 4.2 Jelly Bean, as well.
The assumption is that the tablets are in the Galaxy Tab series because the "P" in a Samsung tablet model number tends to indicate that
there is no S-Pen support
, which would put these in the Tab series rather than Note. And, given the display resolution, it's likely that they are 10.1" tablets rather than a smaller screen size.
We'll keep an eye out for more info.