Leak: Upcoming Meizu MX4 may have the world's smallest bezels
11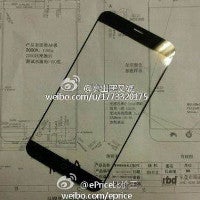 Meizu, a company that is set to become
one of the first smartphone vendors to offer an Ubuntu-powered device
, may also be on path to manufacture a flagship with extremely thin bezels. That much, at least, is plainly visible form a set of leaked photos that are allegedly showing us the front panel of a yet unreleased device, along with the schematics that will be used to craft it.
Published by Chinese ePrice, the images show us that said device, suspected of being the upcoming
MX4
, may sport super-slim side bezels that measure just 1.1 mm. The bezels on top and bottom are not too large, either, so it could be the case that Meizu is trying to
pull a Sharp (or an LG)
. Obviously, there's no way of knowing if these are legit, though
Meizu-related leaks in the past have been pretty spot on
. Too spot on, even, some would argue.
The MX4 is rumored to come in two versions -- one with a 5-inch, 1080p display, and another with a 5.5'' 1536 x 2560 pixel resolution one. Odd as that latter version's resolution may sound, do keep in mind that the MX3 has a resolution of 1080 x 1800 pixels. We're also told that at least one of the two models will carry a Snapdragon 805 processor from Qualcomm, along with 3GB of RAM. The camera is said to be a 16MP one. Currently, we're expecting Meizu to launch the MX4 in August.