Law firm says that Florida might have accidentally banned all smartphones in recent bill
29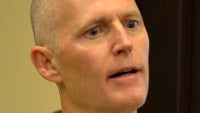 Governor Rick Scott of Florida is beginning to get the reputation of a man whose battle cry is "Ready, Fire, Aim." Scott loves nothing more than to give voters the impression that he is taking action against some threat, whether it is real, hyped in his own mind, or imaginary. Recently, the governor signed a bill that might have
banned smartphones and computers
in the state!
Back in April, Scott pushed through a ban on slot machines and internet cafes after a scandal erupted involving a charity tied to the Lt. Governor that happened to be a front for illegal online gambling. As is typical of Scott's regime, among the 1000 internet cafes shut was one that provided free internet service to poor migrant workers, shutting them out from the only connection to the internet that they had.
Scott's ban was put together so hastily that it defined illegal slot machines as any "
system or network of devices
" that may be used in a game of chance. According to the prestigious Miami law firm of Kluger, Kaplan, Silverman, Katzen & Levine, the definition is so broad that it
can refer to a smartphone
or a computer.
One of the owners of an internet cafe that got shut down, Consuelo Zapata, is trying to get the law quashed as being unconstitutional. In the meantime, we don't think that Florida will start closing down the operations of the major carriers in the state even though they are connecting a series and network of devices. Until the law is shot down, there is always the chance that the state could decide to ban all smartphones and computers. Considering the large elderly population in some areas of South Florida, if the ban was enacted, would anyone really notice?
source:
HuffingtonPost
,
MiamiHerald
via
Gizmodo