Latest iOS update bricks iPhones repaired using unofficial components
44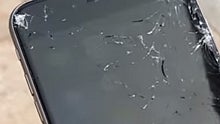 It's no secret that Apple does not appreciate users or unofficial repair outlets meddling with the products it makes. Most of Cupertino's range is glued and soldered to the point where such activity is practically impossible. But since it can be expensive to get an iPhone or iPad fixed officially, many are left with little choice but to opt for some shady / DIY repair jobs -- often to an eventual cost that greatly exceeds the fee. Through
iOS 9
, folks who got their device fixed illicitly are finding that a subsequent software update causes the fatal 'Error 53' code, which bricks the device and takes any data or information with it.
At this point, data lost through Error 53 cannot be retrieved. Moreover, users are not warned that their device could be ended by software update if unofficial components have been added. It would appear that repairs pertaining to the home button -- container of the Touch ID fingerprint sensor -- are the main culprit -- suggesting that Apple's bricking motive is something of a fraud prevention measure.
As reported in
The Guardian
, many have had their iPhones fixed by repair stores and had it work perfectly for many weeks, before the next iOS 9 software update came through with Error 53 and rendered the device effectively useless. With Apple charging up to and over $300 for out-of-warranty repairs, it's no surprise that folks are looking elsewhere. But when the software update scans the system and finds a piece of hardware that it deems to be alien, the error message will likely kill the device. Right now, it would appear that complaints in Apple's direction are falling on deaf ears.
On the one hand, it's understandable that Touch ID would cease to function should components have been tampered with. Since it's used to verify anything from payments to passwords, it arguably
should
fail in such circumstances. But to brick the entire device seems harsh on those with no sinister motives, and with no word from Apple, many users have been left with a very expensive dummy model.
Needless to say, if your device has had any work done around the Touch ID home button and it wasn't carried out by Apple, it would probably wise to hold off updating for now; perhaps even indefinitely.
Recommended Stories