Latest craze in Asia: use a live bunny (a cat will also do) as a smartphone case
50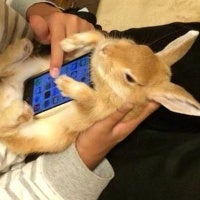 It's one of those Asian things: like smart flip phones (yes, flip phones with Android on board exist in Japan, for instance) and crazy cases (how would you like a smartphone case with Ramen noodles on it?), but this latest one is not just weird - it includes live animals.
Not just any animal, mind you, but a particularly fluffy and cute one: the bunny. Ever since someone in Japan posted a picture of his bunny being used as a smarpthone case on local Twitter equivalent Weibo, retweets and attempts to duplicate this very live and custom case have followed.
The trend spread quickly from Japan to China, and probably in other Asian countries as well, but we have not seen anything like this in the Western world just yet. With the original image now having nearly 40,000 retweets, it seems to only be getting more and more popular, and the bunnies seem to take the unknown object on their bellies lightly. At least we hope so. In either case, if you try this (you really shouldn't), make sure to not cause any harm to those adorable little creatures, mkay?