Latest comScore survey shows further progress for Android over the last 3 months
34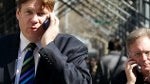 According to the latest survey from comScore, Android continues to add to its
leading
marketshare in the U.S. smartphone market. Google's open source OS added 5.2% from the last survey to have a 36.4% share of the market. Apple's iOS gained 1.2% over the same period to finish with 26% of the U.S. market. The survey counted smartphone users 13 years old and higher living in the United States.
The quarter's biggest loser was theBlackBerryplatform. For the latest period, RIM lost 4.7% which dropped the company to third in the survey from the last report's second place figure. As of April, the firm had a 25.6% share of U.S. smartphone platforms, down from January's 30.4%. Rounding out the top 5, Microsoft dropped 1.3% to control 6.7% of the market and webOS dropped 6% to own a 2.6% share.
The top cellphone
OEM
in the U.S. (for owners 13 years old or higher) during the three month period ending in April was Samsung. The Korean based company had 24.5% of the U.S handset market, a small .4% drop from January. Countrymate LG was second with a 20.9% share, basically flat from the prior survey. Despite a .9% decline over the three months of the report, Motorola finished in third with 15.6% of the pie. Fourth place Apple controlled 8.3% of the U.S. handset market, up from 7% in the January survey while RIM dropped .4% to finish fifth with an 8.2% share, right behind Apple.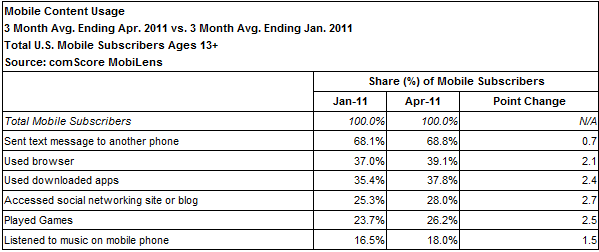 The report from comScore also shows that text messaging was used by a whopping 68.8% of U.S. cellphone owners age 13 and higher. 39 out of every 100 cellphone owners used thebrowser while 37.8% used downloaded apps. Somewhat surprising, only 28% visited a social networking site or a blog, while 26.2% played games on their phone. Just 18% used their handset to listen to music.
source:
comScore
via
AndroidGuys