Google believes in the power of color as it tries to convince you to use a fingerprint scanner
10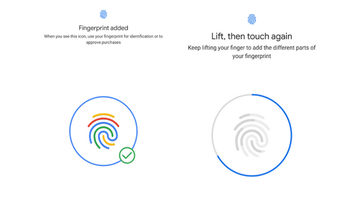 Going from black and white imagery to color is a tried and true method for splashing cold water on your senses. Take the classic film
The Wizard of Oz
, which starts in black and white and turns to glorious Technicolor during the scenes in Oz. Google thinks like this, too. Found in
the latest beta version of the Android P developers preview
is a more colorful image of a fingerprint that is seen when adding new prints to your phone's biometric reader.
The gray fingerprint image with a blue circle around it is being replaced with the aforementioned colorful image of a fingerprint (in Google colors, of course). The blue circle remains. The idea is to get more Android users to protect their personal information by using the biometric reader. And if the image of a black and white fingerprint doesn't get you to use the scanner, perhaps a colorful fingerprint will draw you in.
Check out the images at the top of this article. At left is the new animation found on a
Pixel
using Android P developer preview beta 2, and at right is the current image for fingerprint enrollment.
The animation is as smooth as can be, and you have to be impressed with the idea that Google took the time to polish up an image that simply runs for seconds. If Google has given that much thought to this screen, imagine what the rest of Android P might look like. Of course, imagining what Android P looks like might be the closest many Android users get to the new build for the next year. But that is another issue that Google desperately needs to work on.