Latest Samsung Galaxy S II ad tackles 4G on the AT&T version of the Apple iPhone 4S
52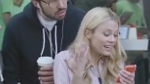 The latest ad from Samsung that pokes fun at the
Apple iPhone 4S
takes a shot at the smartphone's 14.4 Mbps download speed on the carrier's HSPA network vs. the 21.1Mbps speed on the
Samsung GALAXY S II
riding AT&T's HSPA+ pipeline. The latter is considered 4G by AT&T. Of course, AT&T has also considered some other 14.4Mbps models to be 4G, such as the
Motorola ATRIX 4G
. While there had been some reports that Apple and AT&T were working on adding a 4G icon on the carrier's variant of the iPhone 4S, that has not happened which the commercial does poke fun at.
As the ad begins, the caption shows those waiting in line for the next Apple iPhone in Denver, Colorado with 15 hours to go. We see a few people staring at what we assume is the Apple iPhone 4S. The conversation centers around whether or not the phone they are staring at is a 4G unit. "
Is it 4G
?," asks one. "
It doesn't say
," responds a blond girl.
When a passerby with a handset walks close to the line, she is bombarded with questions about whether her phone is 4G or not. "
Your phone, is it 4G
?" she is asked. She replies in the affirmative and reveals that her phone is a Samsung. "
It's a Sam-sung,
" says the blonde Apple iPhone user, with
such disdain
that you would have thought she was being told to actually breathe the same air as an Android owner. When the Samsung user inquires why the group didn't just buy a 4G phone, all the Apple iPhone crowd could do is make fun of her. But when they come to the realization that their iPhone is not 4G, all they can do is act depressed.
It's another great ad by Samsung which has done an amazing job at satirizing those who think that there is only one smartphone in the world. Certainly the Samsung Galaxy S II is becoming more of a household name with these spots, even amongst those who don't follow the industry. As we reported earlier,
33% of Apple iPhone 4S owners think they own a 4G enabled phone
although this ad might set them straight.
source:
YouTube
via
Samsung
Recommended Stories