Latest Android version distribution stats: 14% of all devices are now on KitKat
49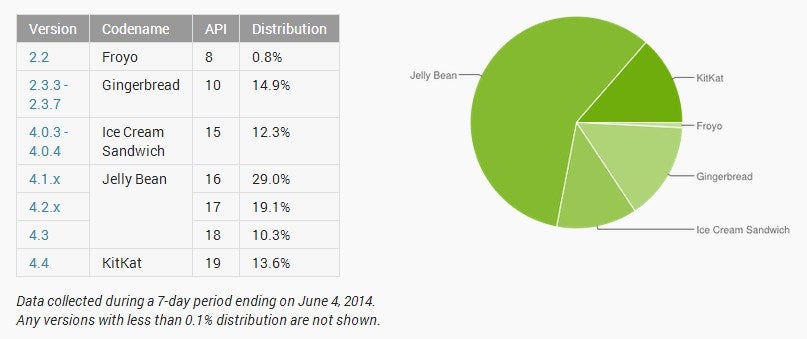 As some of you know, Google has gotten into the habit of releasing detailed Android platform distribution stats every month in order to help developers better understand the current state of the operating system. Said in simpler words, Google makes the respective market share of each major Android update public.
And while this is usually a dry topic in itself (and sometimes the spark that starts a full-out flame war), this time around we actually have an interesting development. Again, as some of you will likely know, the latest Android 4.4 KitKat update has been slow to gain share. Last month's stats had KitKat at 8.5%, while during the month before that, the last major update sat at just 5.3%. May has been very good to KitKat, however, and the platform now holds 13.6% of the entire Android pie. That's a non-trivial hike of over 5% in 30 days.
If there are winners, though, there have also got to be losers -- that's just how it works. In this case, KitKat's rise was at the expense of Jelly Bean (58.4% from 60.8% last month), Ice Cream Sandwich (12.3% from 13.4% last month), and, lastly, Gingebread (14.9%, down from 16.2% a month ago).
Obviously, Gingerbread's resilience is both undeniable and troubling. Unfortunately, apart from waiting out for these devices to eventually reach the end of their life cycle, it doesn't seem like anything can be done. On a brighter note, we do expect KitKat to continue its rise, especially now that a number of manufacturers have announced entry-level handsets that ship out with the latest update pre-installed.
source:
Android
Recommended Stories