Latest Android Wear release brings useful user experience enhancements in the wake of Apple Watch release
3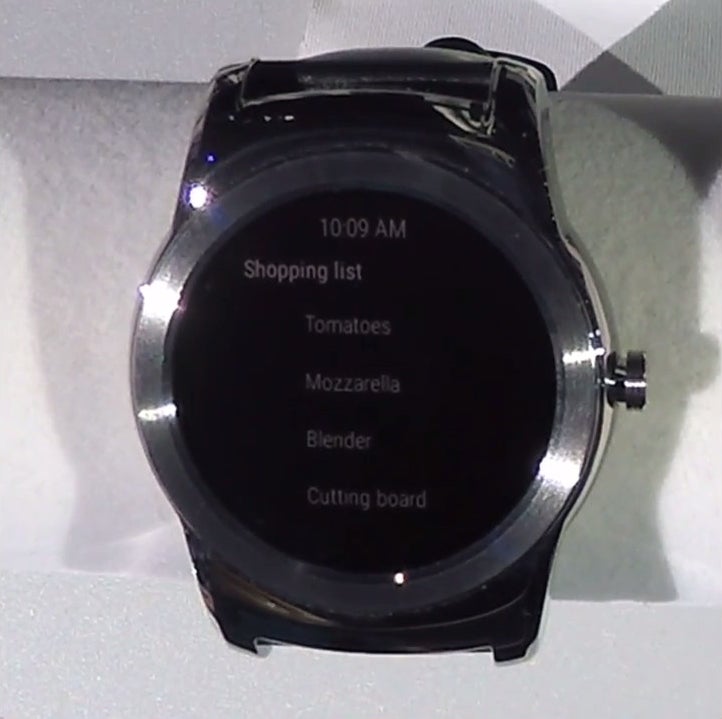 Always on apps can show you your list of groceries at all times
After talking a bit about Android M, Google dedicated some time time to Android Wear on its Google I/O conference. Android Wear was praised for the amount of choice it offers to customers – from the numerous different devices, made by Google's partners, to the 1,500 watch faces that are currently up on the Play Store. A new version of Wear should be hitting smartwatches in a few weeks, and it will bring a few user experience improvements.
The new update aims at making the smartwatch glanceable, actionable, and, more importantly, to make it a device that you don't need both hands to operate. This is most obvious with the new gesture controls – the user will no longer need to swipe through notification cards with their finger. Instead, just tilting the smartwatch in one direction will cycle through the cards in that way. Wave your wrist the other way and you go back to the previous card.
Another nifty little feature is the "always on apps" screen. Up until now, Android Wear watches could have an always on screen, which shows time in monochrome black and white colors, conserving battery while still retaining its "watch" appearance. After the next update, users will be able to have the same monochrome view of any app they choose. For example, you can enter the store with a grocery checklist loaded on the watch. Let the display dim out to black and you will get a battery-saving, black-and-white version of that list. Or load up a route in Google Maps and get glanceable navigation without draining too much of the wearable's battery.
Users will also be able to reply to texts with emoji by drawing on the screen. No, the recepient will not receive a doodle, rather, the smartwatch should be able to recognize what type of emoji the user was going for, and offer a list of possible choices for them to reply with.
Fit has also received an update, allowing the gyroscope of the watch to be used for extended measuring of various sports activities – for example, it has different modes for squats or golf swing measurement.