Larry Page sings Motorola's praises, reiterates need for more durable phones
21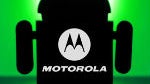 Google has been very careful recently to try to turn around the expectations it set a while back in saying that the Motorola product line didn't "wow" the execs. Today, during
Google's Q1 earnings call
, Larry Page praised the work that Motorola has done over the past year, and reiterated his dream that phones be far more durable than they are now.
Motorola was a pretty big black mark on Google's earnings call, because the company hasn't released any new hardware in about six months. But, Page wants to start getting us more excited about what's on the way from Motorola, saying:
Having just seen Motorola's upcoming products myself, I'm real excited about the potential there. In just under a year, they have accomplished a lot, and have impressive velocity and execution.
Page also reiterated the idea that phones should be more durable. Back in January, Page talked about how phones
should not have screens that break
, and that we would be seeing the changeover to flexible displays in the next "5 to 10 years". But today, Page talked about more issues including battery life and water damage, in addition to the troubles with displays cracking when you drop your phone.
It seems like Page is at least trying to imply that future Motorola phones will focus on durability. We've already heard that the
X Phone will have a battery
on par with the 3300 mAh found in the
RAZR MAXX HD
, and there have been rumors that it will also feature
sapphire glass
, which would greatly improve durability.