LG will roll out those foldable, bendable display devices by 2017
12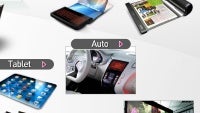 What is LG Display up to? Well, judging by its new display roadmap, it's up to putting foldable and rollable displays inside customers who never knew they needed them's hands. The company's Plastic-OLED screen technology, first seen in the wristware delight that is the LG G Watch R, will be the key to the high-tech displays of the near future. Expect to see it inside wearables in odd shapes, in bent smartphone screens, foldable tablets and computers, rollable tablets and television sets, along with curved car computer systems.
In addition to publishing this promising roadmap, LG detailed its Plastic OLED technology for the masses. It begins with a special plastic substrate (polymide) that doesn't melt under the high temperatures of manufacturing and is free of defects. The next stage is adding a TFT (Thin Film Transistor) technology, and then a flexible encapsulation process is applied to guarantee the stability of OLED elements. There is no glass encapsulation involved - once again, a plastic substrate with protection against scratches and fluid is used to protect the screen from harm. The resulting combination is thinner and lighter than both LCD and Glass OLED, as well as technologically simpler as you can see in the second pic below.
Overall, things look promising for LG Display's P-OLED direction, and we have to say, the engineering and chemistry effort involved in it must be pretty mind-blowing!
Recommended Stories