LG shows off WCD-800 wireless charger at MWC 2012
5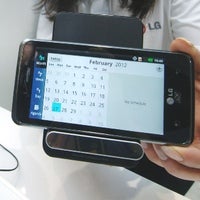 Along with the bunch of cool smartphones that LG has on display at MWC 2012, the company has a pretty nifty accessory to show off as well. Introducing the
WCD-800 wireless charger from LG
– with its cradle design, it allows for the smartphone to be placed either in portrait or in landscape orientation whilst being charged. This enables users to enjoy a video chat or a movie, for example, and having their device filled up with juice at the same time.
With a width of 78.5 millimeters, the new model is considerably wider than its predecessor, thus allowing for a bigger contact area between the accessory and the handset. As a result, the inductive charging process takes less time as it is done in a more efficient manner. In fact, LG claims that the WCD-800 is just as effective as a conventional wall charger.
The LG WCD-800 is expected to be released in Korea first, followed by a launch across North America by the end of Q2, and will be compatible with all devices supporting the Qi standard for
wireless charging
. Pricing, however, is still unknown.