LG shows off VMWare virtualization coming to Verizon soon
1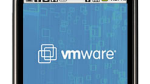 We had heard a while back that Verizon was working with handset makers to bring VMWare virtualization to some Android-powered devices, and now LG is showing off the tech with a promise that the phones will be coming to Verizon "in the coming months".
The idea sounds pretty interesting, but we're a little torn on it. First of all, this is not virtualization in the sense of running a different OS on an Android device, it's still just Android, but the idea is that the software will allow you to split your phone into "personal" and "work" modes, and be able to toggle between the two with the touch of a button. There have been apps in the Market that allow you to do something similar with profiles, but this looks to be a more complete solution, because the "work" phone can be managed by your employer. This is definitely an enterprise solution, but it does highlight the fact that mobile devices should have options for multiple profiles to allow users to keep things separate if they want.
The announcement today was that Verizon and Telefonica will be releasing phones with this virtualization "in the coming months". Although, the demo today on the LG Revolution has been described as a "proof of concept", so we wouldn't expect it all that soon.