LG reveals more of its 8-megapixel KC910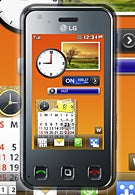 KC910
, the touchscreen all-in-one phone successor of the Viewty. The text doesn't reveal any new details, but there are three photos included, showing what the back of the phone and its interface look like. Although only the homescreen is shown, we can see that it is not exactly the same UI as in the
Viewty
. The idea of "widgets" from the
KF700
has been redefined and now is very similar to that used in Samsung phones (
F480
and
OMNIA
) – offering small applications that can be displayed simultaneously and moved around the display.
LG proudly claims that the KC910 will be the slimmest 8-megapixel phone when it is released on the market. As the Viewty, it has Schneider-Kreuznach certified optics, manual focus, ISO up to 1600 but adds features such as face tracking, smile shot, and blink detection. The camcorder can also capture VGA videos with 30fps and DivX codec or QVGA with options for slow and fast
motion
effects. Other features include 3G HSDPA, Wi-Fi, and aGPS for navigation, jogging application and geo-tagging of pictures.
source:
LG