LG mentions the iPhone 6 Plus on its website to show its lower screen resolution compared to the G4
99+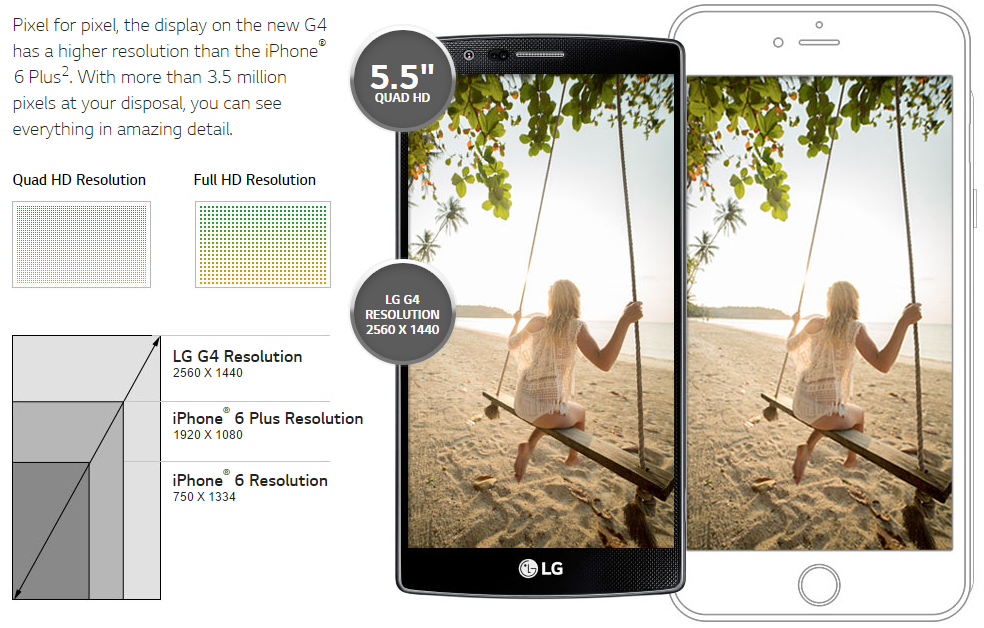 Usually, when a smartphone manufacturer's website mentions a competing handset, it's just for the sake of comparison, and to ultimately suggest that said handset isn't on par with the respective manufacturer's products. Well, this is exactly what LG is doing now on the official product page of its brand new
G4
.
As you can see above (or at the source link below), LG says that, "pixel for pixel, the display on the new G4 has a higher resolution than the
iPhone 6 Plus
. With more than 3.5 million pixels at your disposal, you can see everything in amazing detail."
Of course, the quality of a display is far from being exclusively related to its pixel resolution. But LG is right: the 5.5-inch Quad HD (1440 x 2560) screen of the G4 is sharper than the 5.5-inch 1080p (1080 x 1920) display of the iPhone 6 Plus. Obviously, it's also sharper than the 4.7-inch, 750 x 1334 pixels screen of the regular iPhone 6 model. This being said, we're looking forward to thoroughly testing the screen of the G4, which, until now, looks quite impressive.
In the meantime, you can check out this
G4 vs. iPhone 6
quick comparison, or you could see how the G4 fares, size-wise,
against the iPhone 6 Plus and other flagships
.
source:
LG