LG may be planning fingerprint scanners for all 2014 flagships
18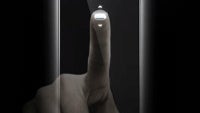 Recently, the rumors surrounding the possibility of having iris scanners on this year's flagship devices from Samsung and LG seemed to have been smashed, and replaced with the much more believable rumor that we would be seeing fingerprint scanners on the Galaxy S5 and LG G3. But, a new report makes it sound like LG might be planning fingerprint scanners for multiple devices.
The report comes from Korea's ETNews, and makes it sound like the LG G3 won't be the only LG device with a fingerprint scanner. Apparently, LG is also planning to fit the upcoming LG G Pro 2 phablet with a fingerprint scanner as well. There isn't a lot of info around concerning the
LG G Pro 2
, but it is expected to feature a 5.9-inch Quad HD (1440 x 2560 pixels) display, and may be announced at Mobile World Congress (MWC) next month.
The real question of course is how LG plans to implement the fingerprint scanner. We've seen fingerprint scanners on handsets before the iPhone, but most either didn't work all that well, or were placed in awkward spots on the device (like on the back of the device, similar to the buttons of the LG G2). Still, it seems that the technology has come along, so it may not be that difficult to implement.