LG lowers cellphone sales target for 2011 by whopping 24%
7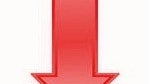 The first half of the year is behind us, and while some cellphone manufacturers have been making piles of money selling handsets in epic proportions, it turns out that others have not been doing so well.
LG
has just announced that it is
dropping its cellphone sales goal for 2011 by a whopping 24%
, which means that the Korean company is now aiming at shipping a total of only 114 million handsets by the year's end instead of the previously anticipated 150 million.
The main reason behind LG's pessimistic outlook is that
its smartphones are not selling as well as the company expected
. According to estimates, About 10 million LG smartphones were shipped during the first half of 2011, which is about two times less than what Samsung managed to pump out in the second quarter alone. It seems like LG will be posting its fifth quarterly loss in a row despite bringing a couple of pretty impressive high-end smartphones to the market, namely the
LG Optimus 2X
, which was
the first to feature a dual-core chipset
, and the
LG Optimus 3D
–
the first smartphone with a glasses-free 3D display
.
Well, this is the reality of the highly-competitive smartphone market –
some lead
and the rest follow. Will LG come up with a solution to solve its low smartphone sales?
Recommended Stories