LG introduces its Wireless Charging Pad
3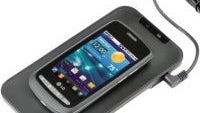 Today, LG debuted its new wireless inductive charging pad, creatively named the Wireless Charging Pad (WCP-700). Like other inductive
charging solutions
, the WCP-700 uses inductive coils in the battery doors in order to absorb charge from the mat itself.
The WCP-700 is special in that it includes a number of usability features, like audible and tactile alerts. When your device is correctly placed on the WCP-700, you will hear a distinctive tone, and feel a quick vibration. And this might be necessary, as the WCP-700 is only effective when your device is within 7mm of the mat's center.
There are also LED status indicators that will give you a progress report on the charge, without you having to get up and check the phone itself. A blue light indicates that the WCP-700 is plugged in, an orange light indicates that it's ready to charge, a flashing green light tells you your phone is still charging, and a solid green light indicates that charging is complete.
The WCP-700's size seems to indicate that you can only charge one device at a time. But that shortcoming is overshadowed by its portability. At 4.4 ounces, with dimensions of 6.29"x3.54"x0.39", the WCP-700 won't be a cumbersome addition to your bag. There's no word on pricing, or the availability of inductive battery doors, but we expect all of their current/recent smartphone lineup to get the inductive doors shortly.
source:
LG