LG introduces cool pocket-sized wireless photo printer for your smartphone
9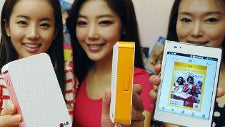 Korea is probably the perfect country to live in if you're a gadget lover - it gets the coolest and sometimes weirdest new devices first and this here pocket-sized wireless photo printer for smartphones from LG seems among the cool gadgets.
LG has introduced a stylish and instant photo printer that you can put in your pocket and that works with Bluetooth and NFC so you can print right away. The device is 0.94 inches thick and only 0.47 pounds, so it can fit in your pockets (not necessarily very comfortably though).
The tiny printer comes with ZINK (Zero Ink) printing technology using special photo paper where the colors are already applied and are just getting heated up at the time of printing.
The LG pocket printer will cost around $170 (189,000 won) and will come with 10 sheets of that special paper. For each additional 10-pack Koreans will have to pay around $13.
source:
Mobile-Review