Scootch, display speakers and finger scanners, LG puts a 5G antenna in phone screens
4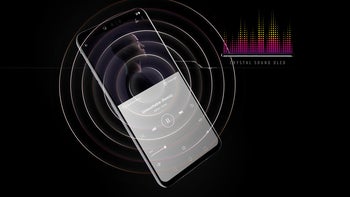 We shudder to think how expensive a screen replacement is going to get once manufacturers stuff everything they are intent on stuffing in there. In the last few years alone they fused the touch layer into the display itself, increased the resolutions, moved to the more expensive OLED variety, started bending, folding or piercing them to fit various design trends, tacked in-display fingerprint readers on, started using them as sound emitters instead of the good ol' earpiece, etc.
Now, what else can we slap into the display package, wondered LG, and came up with an idea. The phone maker has
reportedly
managed to save precious space inside phones by integrating... wait for it... 5G antenna in the display itself. Well, integrating is not the right word, as it looks like the LG engineers simply slapped thin antenna films on the back side of the screen, but still.
Given that the current number of antennas needed for grabbing 5G coverage borders on 30, and that adds significant bulk to the usual phone antenna design, being able to move the 5G antenna to the display package sounds like a practical space-saving solution, especially if it improved the coverage as well.
LG said it can also apply the 5G antenna films on the back of the phone, and again improve reception by using the vast surface but, come to think of it, space there may be needed for all those wireless charging coils that are becoming the norm, too.
In any case, LG seems to have circled the wagons around its 5G-in-display invention with patents, but apparently, we won't see the technology applied to the
V50
in May. That one will still have the current bulky 5G antenna design.