LG giving out 32GB microSD card, an extra battery, and a charging cradle to US G4 buyers
42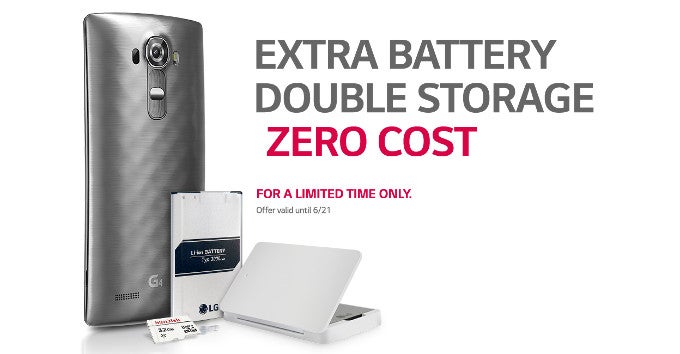 While the LG G4 is yet to be found on any shelves stateside, the company is already up with a promotion. Prospective G4 buyers in the US now have three extra reasons to pick up the new flagship, as LG is giving out a 32GB microSD card, an extra, 3,000 mAh battery, and a battery charging cradle to anyone who buys it between today and June 21st. That's a great deal, especially if your only concern is the rather underwhelming battery life of the G4 — with an extra battery, you can easily swap out the exhausted one and keep on going.
To participate in the promotion, you'll have to do some legwork, however. Since there is currently no way to verify your order online, you're actually required to fill in a short application and send a copy of it and a sales receipt LG's Santa Ana office in Califronia by mail. The form includes several questions that you need to circle out, mostly concerned with what led to your purchasing decision and which competitor products you were considering before settling on the G4. If your application is all good, you should expect the goodies to arrive within 4 to 6 weeks.
Lastly, we should point out that we still don't have concrete dates for when LG is planning to launch the G4 in the States, though it seems safe to assume that the date is fast approaching.
Thanks for the tip, Jose!
Recommended Stories