LG confirms that the Optimus G unibody sports a glass back with patented "Crystal Reflection" design
35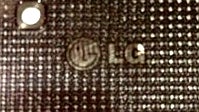 We asked LG for clarification what exactly is the design of the upcoming
Optimus G
monster made of, as it states "premium glass" with "polarized glass pattern" for the back of the unibody chassis in the press release, and it turned out to be indeed the case:
The back cover of 'Optimus G' is made of glass and gives users diverse look depending on the light and the angle you see it via 'Crystal Reflection' design. LG has registered 'Crystal Reflection' design at the patent office. 'Optimus G' is an unibody that gives the impression of a dressed-up gentleman. [The] 13MP camera is developed by LG Innotek.
Since premium materials in Android phone design are few and far between, we have to hand it to LG for trying to break that trend, and introduce not only a handset crafted with a glass-made back, but grace it with a crystal pattern to help your grip, and add to the attractiveness of its looks. As for the camera module being made in-house by LG Innotek, instead of stalwarts like Sony or OmniVision, we'd have to wait and see what LG has done first, since this is the area its flagships need the most improvement.
For an in-depth information about the first phone with quad-core Snapdragon S4 Pro and LTE, you can read our
Optimus G specs review
.
Recommended Stories