LG announces the PMC-510 portable smartphone charger, coming soon
6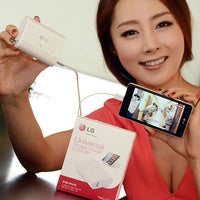 Portable battery chargers are pretty neat, aren't they? They come in handy when your smartphone runs out of juice and there's no outlet or USB port around.
And LG just introduced one of its own – the PMC-510, as it is called, which comes with a 5,200mAh lithium-ion battery. That should be enough charge to fill up the cell of most modern smartphones about a couple of times. There's a single USB port on it and a button for selecting the "priority charge", whatever that's supposed to mean.
Unfortunately, we don't yet know how much the accessory will cost once it hits the market. What we also have no information about is whether it will ever be available outside of Korea, where it is bound to launch soon.