LG and Google team up to answer Samsung and Microsoft with 115GB of free cloud storage on the G4
8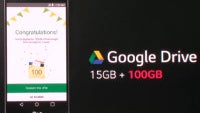 Samsung did something unusual with the Galaxy S6 and Galaxy S6 edge – it partnered with Microsoft in order to bring the latter's suite of Android apps to its devices. Among those was OneDrive – the software giant's cloud storage service. Since Google requires that its partners always include its entire suite of apps, this means that its own cloud service – Drive – has a competitor from the get-go.
That's not where it ended, though. In addition to having OneDrive parade in proximity of Drive, the Samsung/Microsoft deal also rewarded buyers with a ton of free storage – 115GB to be exact – in order to further incentivize users to make use of it. We can imagine that Google was none too happy about it, and it seems like it's taking the opportunity presented by the LG G4 to strike back. How does it go about that? By offering the exact same deal to G4 buyers, but through its own product. You read that right – if you opt for the new LG flagship, you'll be getting 115GB of free cloud storage, courtesy of Google Drive. That much, at least, became clear minutes ago, whilst LG execs were still on the stage giving us a tour of the G4.
Were this an isolated incident, we'd probably think that this is just business as usual, and nothing more. However, Samsung has, for a while now, made it clear that it wants more control over its smartphones, a large part of which are wholly-dependent on Google's Android and any partnership programs that it enforces. It wouldn't be a stretch to imagine that Samsung's partnership with Microsoft is an intended move, and therefore – that Google had similar motivations behind the LG G4 'sponsorship'.
Recommended Stories