LG VX9600 makes another appearance on film
This article contains unofficial information.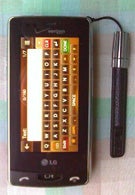 As we have previously reported, the modular LG VX9600 is expected to ship with a QWERTY keyboard that plugs into the main unit. What wasn't known for sure was whether or not the Versa would have a virtual QWERTY as well. If photographs spotted on Howard Forums are real, it seems that this device will have a "soft" QWERTY keyboard for use on the browser, when texting and using the note pad, and for use on other applications similar to the many uses the virtual QWERTY has on the LG Dare. Unlike the Dare's keyboard, the Versa's virtual keyboard has dedicated buttons for ".com", "@", period and comma functions. Non-letter buttons like "Clear", "Shift" and "Done" will be highlighted in different colors to stand apart from the letters. Like the Dare and the iPhone, the letters will pop up when they are pressed as a way to confirm that you have pressed the letter that you wanted. Besides the included QWERTY keyboard, the LG VX9600 is expected to offer additional plug in applications for purchase. Some of the applications expected to be available are for game playing, Wi-Fi connectivity, internet browsing, and speakers for playing music.
*Update Feb 07, 2009: The photo shows a black leather hand strap
source:
Howard Forums
via
BGR