LG V30 launches with a hearty price, US release slated for October
39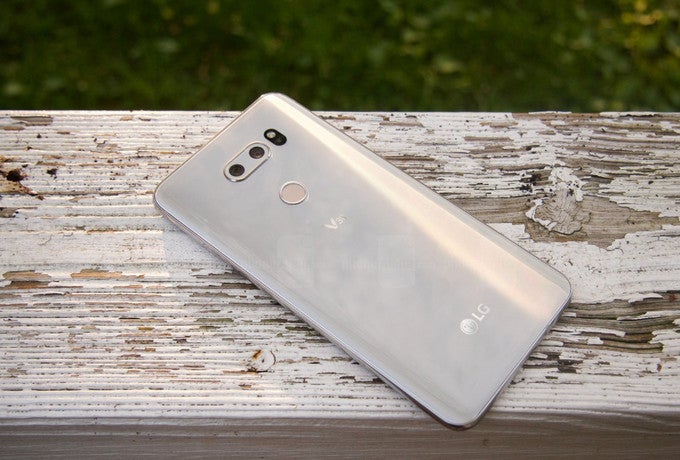 LG just sent us a press release about the
V30
global launch today, and it is starting with its home turf of South Korea, of course, but the phone will be gradually rolled out to North America, Europe and other markets in the coming weeks, tips LG. In fact, Korean media claims that the V30 will land in the US "next month," which is two weeks from now, so not much left to wait.
Unfortunately, there are no pricing details for the Americas or Europe, but in Korea the LG V30 is landing with a tag equivalent to $840 for the 64 GB version, and $885 for the 128 GB
V30 Plus
model. There, the V30 will be available in four colors - Morokan Blue, Cloud Silver, Aurora Black, and the new Lavender Violet option that is coming in October.
It also sports dual cameras with zoom and depth of field tricks, excellent audio prowess, a comfortable rear-placed power key/finger scanner, and an exquisite glass chassis that is a pleasure to feel or simply look at.
LG might have a winner on its hands with the V30
this time around, as, in the era of thousand-dollar phones, its relatively high price might very well go down unnoticed.
SEOUL, Sep. 20, 2017 ― LG Electronics (LG) begins shipping its well-regarded LG V30 smartphone to customers in its home country of South Korea this week and will be followed by deliveries to eager customers in North America, Europe and other key markets globally in the days and weeks to come.

The LG V30 created strong interest at this year's IFA 2017 in Berlin, winning 26 awards, the most for LG at the annual trade show. Audiences praised it for its superb design and range of innovative features with experts predicting it will be the phone to beat when it comes to creating professional-quality content without professional-level complexity.

To best deliver consumers' preference for big screens in small bodies, LG engineers squeezed a 6-inch, 18:9 FullVision display into a frame that is 8mm shorter and 3mm narrower than its predecessor. Sheathed front and back in tempered glass that curls around its edges, the V30 won accolades for its exquisite look and feel. Weighing in at only 158g, the V30 is the lightest smartphone in the 6-inch and over smartphone category.

"The V30 was designed to help consumers best capture the experiences that make up our life stories," said Juno Cho, president of LG Electronics Mobile Communications Company. "Its functions and features delight our senses of sight, sound and touch and when it comes to looks, it may just be the most beautiful smartphone we've ever developed."

LG is a leader in smartphone photography, and the V30 extends this legacy. The phone features many industry innovations, including the first F1.6 aperture and glass lens in a smartphone camera, the ability to produce near professional quality movies and videos by shooting in LG-Cine Log format and the smartphone industry's first OLED display in FullVision format.

The F1.6 aperture lens that highlights the main camera captures more light for brighter-than-ever shots. The Crystal Clear Lens is composed of glass, a material usually only found in higher-end cameras that delivers more accurate colors and crisper images than traditional plastic lenses.

As a video capture tool, the V30 is equipped with Cine Video mode to make anyone shoot like a pro. Cine Effect features 15 different presets that emulate genres from romantic comedy to summer blockbuster. And industry-first Point Zoom allows one to zoom in on any subject in the frame, not only the center object. LG-Cine Log saves files while preserving a wide dynamic range and color gamut to allow for more adjustments in post-production. All this, when combined with the QHD+ (2880 x 1440) OLED FullVision display, offers faster response times and minimizes afterimages for the ideal Google Daydream VR experience.

Additional details including price and exact date of availability will be announced locally in each market.

# # #

About LG Electronics Mobile Communications Company
The LG Electronics Mobile Communications Company is a global leader and trend setter in the mobile and wearable industry with breakthrough technologies and innovative designs. By continually developing highly competitive core technologies in the areas of display, camera optics, audio and battery. LG creates handsets and wearables that fit the lifestyles of a wide range of consumers all over the world. LG is seeking to provide a mobile experience that extends beyond the scope of traditional smartphones. For more information, visit www.LG.com.