LG Revolution 2 could be coming to Verizon as the LG Spectrum
9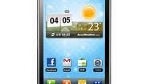 So what has become of the
LG Revolution 2
? Popping up
only three months after the launch of the first-gen model
, the Revolution 2 was rumored to offer a 4.5 inch screen; the device quickly dropped out of the public eye and has been unheard from since. Now, a couple of screenshots show a device called the
LG Spectrum
in Verizon's computer system.
While there is no smoking gun link to the LG Revolution, note how the LG Spectrum is listed right under the former handset on the first screenshot. Like the LG Revolution, the LG Spectrum is an
LTE enabled device and adds global functionality
. As far as a launch date and pricing is concerned, we honestly have a paucity of information about this device to work with. What we do know is that the LG Spectrum appears to be making its way through that maze-like process that leads to a launch from Verizon at the end of the road. So regardless of whether or not it is the sequel to the LG Revolution, a new handset will apparently be rolling out from Verizon and that is a good thing.
source:
DroidLife