LG Optimus Vu 2 to be the couch potato dream as the first "all-in-one remote control" phone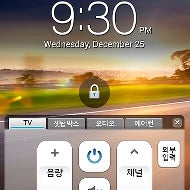 An infrared sensor and a Q Remote app to match it will be gracing the
Optimus Vu 2
, which is slated for release next month in Korea. The original
Vu
is coincidentally
scheduled to make a global appearance next month
with quad-core Tegra 3, as well as arrive on Verizon as the
LG Intuition
.
Whether or not the gloabl Vu will include that sensor and app combo that are in store for the second generation of the Vu is not clear at this point, but the idea is pretty nifty.
A lot of phones from the WinMo and Symbian dawn of the smartphone era included infrared sensors, which somehow fell from grace with the ascent of iOS and Android.
Best of all, LG says the sensor and the Q Remote app will not work only with LG devices, but rather with any other brand out there, which sounds very promising. Moreover, you'll be able to access the app
directly from the lock screen
, without getting into home screen details.