LG Optimus G for AT&T hands-on
14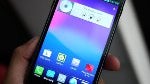 Hard to imagine it, but the most premium offering from LG since the beginning of this year has been the
LG Nitro HD
, which was the first AT&T bound device from the manufacturer that carried along a snazzy 720p display. Call it a long wait or something else entirely, it's soon going to be forgotten now that the mightier
LG Optimus G is coming in the very near future
.
Needless to say, there's a lot of excitement and buzz surrounding this beauty, since it's yet another premier Android powered smartphone coming to market. Already, we've gotten a good look at the international variant of the smartphone, but with AT&T's offering, there are
some notable changes
that make it a bit different.
Honestly, it's unknown why many devices overseas end up becoming lower grade versions of themselves when they're released here, such as the case when many of the popular smartphones were outfitted with dual-core processors instead of quad-core ones. We won't get into the specifics now on it, but you'll see below in our slideshow what really stood out to us with
AT&T's version of the LG Optimus G
. Regardless, it should no doubt fit in nicely with the carrier's lineup, which is increasingly becoming stacked with plenty of high-end offerings.