LG Optimus G Pro Black Folio Case hands-on
12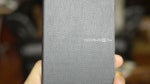 At this moment, we're seeing some fierce competition amidst the smartphone market, as many highly anticipated devices are fighting for supremacy. For those on AT&T, the
LG Optimus G Pro
is slated to arrive on May 10th for $200 on-contract, but if you quickly placed a pre-order back on May 3rd, you'll be glad to know that you'll be getting a
free LG Black Folio Case
for the phablet.
Much like other recent flip cover cases, such as the one for the Galaxy S4, the one here for the LG Optimus G Pro follows in the same direction. Specifically, it replaces the stock back casing with an identical one – albeit, it's attached to a flip cover case. Thankfully, we're still greeted to the same
intricate design of its rear cover
, which changes pattern depending on the angle you look at it. However, since it's the same glossy plastic casing, it's still
prone to being dirtied by fingerprints and smudges
.
Despite that, we like the plastic textured design of the front cover, which covers the 5.5-inch display entirely – though, it's nice to find cutouts for its earpiece and home button. On the inside cover, it's lined with soft microfiber material to keep the display protected and clean. Worth noting, too, is that the front cover doesn't automatically turn on/off the display when it's opened/closed.
Like we said folks, if you were quick enough to place a pre-order for the LG Optimus G Pro back on May 3rd, you'll be receiving this Black Folio Case for free. As for the rest of you, just plan to fork over a whopping
$50.00
for its full retail price. At that point, you may want to consider picking up a similar third party option.
source:
AT&T