LG Nexus 5 (2015), LG G5 said to come with LG's new fingerprint recognition technology
17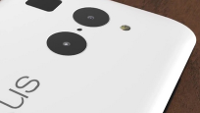 Over the past months, we've stumbled across multiple unofficial reports which claimed that the rumored
Huawei Nexus phablet
and
2015 Nexus 5 refresh
will come with fingerprint readers.
Indeed, with
Android M
set to arrive with native support for fingerprint sensors, it seems very likely for Google's Android M hero devices to feature a biometric authorization option for Android Pay purchases. However, according to a new report from LG's home country of South Korea, the alleged upcoming Nexus 5 will be just the start of the road for LG as far as smartphone-mounted fingerprint readers are concerned.
Quoting the usual unnamed industry sources, a recent report from the Korea Herald argues that LG plans to equip its future flagship smartphones with fingerprint readers, after first experimenting with the technology on the 2015 refresh of the Nexus 5. What this means is that the rumored LG G Pro, as well as next year's LG G5 (likely to be called this way if LG sticks to its traditional naming scheme), will come with fingerprint sensors as well.
As one could anticipate, LG is said to equip fingerprint sensors on in its future handsets in an attempt to catch up with the leading smartphone manufacturers in the mobile payment game. Apple has Apple Pay, and Samsung will soon roll out the highly-anticipated Samsung Pay, but LG apparently plans to stick with Google's upcoming Android Pay, a mobile payment platform that will be available to all Android M smartphones.
From the looks of it, fingerprint readers and Android Pay will go hand-in-hand in the upcoming M version of Android. Earlier today, a new Huawei smartphone thought to be the upcoming
Huawei Nexus phablet was spotted in a leaked video
with a fingerprint reader mounted on the back.
Unfortunately, the report doesn't mention any concrete specs for the 2015 Nexus 5 aside from the fact that the display will measure 5.2-inches across the diagonal. According to the Korea Herald, the Nexus 5 refresh will be launched this October. If this detail turns out to be accurate, then Android M should be launched at the same time. This reasoning is based on the fact Google usually launches new Nexus devices alongside new Android versions.