LG Jil Sander Mobile hands-on
7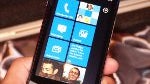 To tell you the truth, even before picking it up, we had no clue
who or what was Jil Sander
. Well, after a little bit of researching and perusing, we're amazed to find that she's none other than a famed fashion designer – a very good one at that too. However, after checking out the
Jil Sander Mobile
, a Windows Phone 7.5 Mango device manufactured by LG, we're understanding why sometimes fashion designers don't translate over well to the smartphone realm.
Picking the handset up, we're thinking to ourselves, is this really a handset
designed by a fashion enthusiast
? Simply, it looks far from anything chic, and instead, it comes off as something
cheap
because of its super plasticy feel. Sure it might have the faux pas appearance of being a metallic looking device, but it's obviously far from that. Moreover, there isn't anything particularly compelling about the patterned design it's flaunting all over its body.
In terms of hardware specs, this is nothing we haven't seen before, since it features a 3.8" WVGA display, 5-megapixel auto-focus camera with flash, 1GHz single-core processor, 720p video recording, and Windows Phone 7.5 Mango.
Seriously, we haven't been impressed of lately
by devices that are claiming to be designed from fashion buffs
. Instead, they really need to get some inspiration from some of the classier devices on the market, in order to stand out from the crowd.
Overlooking its less than pleasing looks, at least the platform experience is solid – then again, isn't that supposed to be the case with Windows Phone in general? So far, there is no word if this handset is coming stateside, but it's reportedly coming to Europe one way or another.