An actual LG G7 ThinQ amplifier just leaked in two new images
14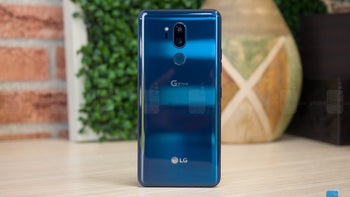 With LG's latest flagship boasting an improved audio quality, it's no surprise LG wants to capitalize on this feature. However, it's next smartphone accessory offering will certainly be an unexpected move if the latest leak is anything to go by.
As revealed by images obtained by
AndroidHeadlines
, LG is apparently planning to introduce what it is calling the Boombox Sound Booster. From what can be interpreted, consumers who purchase the audio product will simply need to place their
LG G7 ThinQ
smartphone
inside
on top of the box, with this then providing significant boosts to both the audio volume and bass via the built-in sound hole – the box itself acts as a resonance chamber.
UPDATE:
During a meeting with the company in late April, LG demonstrated the Boombox Speaker's capabilities to us using boxes very similar to the ones pictured. The boxes were completely passive devices with rigid construction and hollow insides to amplify the sound coming from an LG G7. The phone doesn't go inside the box. It lays flat on top of it instead, and the hole you see pictured is below the phone's LED flashlight. The LED can be set to flash to the beat of the music. What appears to be speakers and visualizer are merely translucent decorative pieces of thin plastic that light up by the pulsing flashlight.
Below follows the rest of the original post.
By introducing this kind of accessory, it's clear
LG
will be aiming it at a very niche market. After all, the South Korean company has previously stated that audio volume can easily be improved by placing the G7 ThinQ down on a flat surface, meaning not everybody will be willing to part with their cash for an improved experience. However, considering LG's Boombox Sound Booster appears to have been designed with the G7 ThinQ in mind, it may be of interest to certain music lovers.
Currently, it's unclear when LG's accessory will be available to consumers across the globe, but considering the nearing release date of the company's latest flagship, LG should officially unveil the accessory within the next couple of weeks. For now, though, those interested in the accessory will be pleased to know that shipments the compatible smartphone commence tomorrow, June 1, with the smartphone retailing for $750. This price brings Qualcomm's
Snapdragon
845 to the table alongside a dual 16-megapixel camera setup on the rear and a large display complete with a small notch up top.