LG G4 gets teardown and x-ray treatment; neat, tidy and easy to repair
7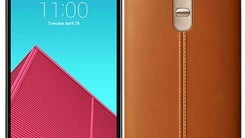 With the optional leather casing or even without, the
LG G4
is quite a nice-looking handset from the outside. A new teardown by the guys at iFixit suggests that it's not too bad from the inside, either, with a nicely-arranged engine that's also relatively easy to fix.
Last week, Samsung released images of its
Galaxy S6 and S6 edge teardown
, offering an up-close-and-personal look at the devices' inner-workings. The official show-and-tell illustrated just how a well-crafted smartphone should appear under the hood, and by the look of things, LG's G4 is another advocate for inner beauty.
With Web-based resources offering step-by-step instructions that guide everyday users through the process of fixing their ailing smartphones, there's been an increased interest in the repair-ability of devices in recent times. A handset featuring a lot of glue, with a bunch of heavily-soldered hardware is always going to be tough for the bedroom repairman to dive into. But if your LG G4 needs fixing, there's a good chance that you'll be able to do so with the right tools.
As iFixit notes in its exhaustive teardown:
The ease of opening and simplicity of components remind us of the good old days of easily repaired Android phones. The G4 seems to be a great showcase for slim luxury
and
repair friendliness.
A phone that is easy to repair means that it may also be cheaper to get fixed by a third-party company, and aside from its fix-ability, it does look rather nice from the inside.
Check out the gallery below, featuring the images snapped by iFixit during its teardown, as well as some awesome x-ray shots provided by Creative Electron. And if you're really interested in finding out what's what beneath the leather finishes and quad-HD displays, check the full report at the source.