LG G4 Pro might be made out of metal
12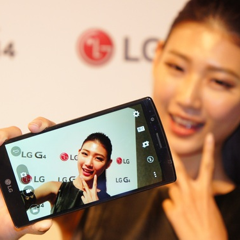 Remember that
other
high-end smartphone that
LG is reportedly preparing
for the second half of the year? Korean publication ET News has it that this device might be called G4 Pro, and could be made out of metal.
According to ET News, LG would like to build the G4 Pro out of metal in order to differentiate it from the regular
G4
- which, as you may know, is a plastic-made smartphone with optional leather back covers. However, some people working for LG believe that metal should be tested on "niche models" first, and, if everything goes well (with the build quality, for example), it could then be used for devices that have the potential to become hot sellers.
One of the issues that LG is facing right now is related to the higher cost of metal (including processing it) compared to other materials. LG is selling fewer handsets than Samsung and Apple - both of which have flagship smartphones made out of metal - and profitability is likely going to suffer if the production cost per unit is higher.
Besides building it out of metal, we're not sure what LG is planning to add to the alleged G4 Pro to actually make it
pro
. However, looking at last year's
G Pro 2
, which sports a 5.9-inch display, we're expecting the G4 Pro to be larger than the regular G4 (pictured above). And maybe to also feature a stylus pen, which would allow it to compete with Samsung's upcoming
Galaxy Note 5
.
Since LG hasn't made any final decisions when it comes to the G4 Pro, or whatever the handset's name will be in the end, for now we can't be sure of anything. But we'll let you know more about all this as soon as new details arrive.
source:
ET News