LG G2 vs HTC One: first look
25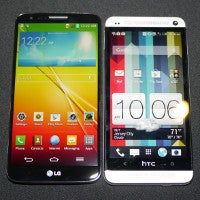 Out of all the Android makers out there, HTC was one of the first to actually announce and release its flagship smartphone this year. In that time alone, it has managed to remain memorable, despite the onslaught of competition entering the space. Now that its presence is finally known, the LG G2 is aiming to knock off its competition one-by-one - and the HTC One is absolutely on that death list! Our time comparing the two might be brief, but that doesn't prevent us from seeing how they stack up against one another.
Somehow magically, LG is able to craft a device with a significantly larger display, while also having an overall size that's meticulously close to the frame of the HTC One. Putting the two next to one another, our mind is totally blown away by the LG G2's form fitting stature. However, it pales in comparison to the sturdy construction, premium element, and attractive design that the HTC One is flaunting. Sure, it might be heavier in the hand, but that's something we come to expect from a device fashioned out of aluminum. On the other hand, the plastic construction of the LG G2 gives it a noticeable light weight feel in the hand, but its lacks the same sturdy construction of the HTC One.
Attached with that high-end status, it's only fitting to see nothing except 1080p resolution employed by these two. Specifically, it's a 4.7-inch 1080p S-LCD 3 display on the HTC One – while the LG G2 takes the size up a notch with its 5.2-inch 1080p True HD IPS display. Even though the
pixel
density figure on paper goes to the HTC One, our eyes can hardly tell the difference from a normal viewing distance. Moreover, they share many of the same qualities – like their neutral color production, great viewing angles, and low distortion. However, what continues to amaze us is the insanely slim bezel surrounding the left and right edges of the LG G2's display.
Compared to their respective predecessors, these two Android powered smart phones have made significant improvements with their software experiences. HTC's approach was to focus immensely on the visuals with it Sense 5 UI, which it does stand out between the two. Unfortunately for the LG G2, the visual stature of it isn't as profound this time around to match its rival's more modern look. It might be lacking in the presentation, but the newly outed LG G2 makes up for its discrepancies with its deeper functionality. From presenting us with a new form of multitasking with its Slide Aside feature, to other useful things like Text Link, we can already recognize LG's efforts in honing in on functionality over visual allure.
HTC started on the right path earlier this year when it released its flagship in the One, as it was universally praised by many people. It's established, no doubt, which continues its cause in being a notable figure in the scene. Obviously, thee LG G2 is making those first steps right now, but knowing that its armed with the latest hardware around, it's surely going to give the HTC One a good run for its money.
LG G2 vs HTC One