LG G2 release dates and pricing for T-Mobile, AT&T and Verizon
18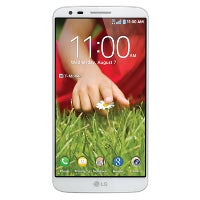 The
LG G2
is one of the most anticipated phones of the year. With a spec sheet that rivals any other top-shelf phone, the LG G2 also features some clever design work by the Korean OEM. With the power button and volume rocker on the back of the phone, the device has a unique look including a clean top without any buttons. All four major U.S. carriers will be offering the phone, and now we have release dates and pricing for the LG G2 on three of them.
Let's start with T-Mobile. Some insiders are reporting that the LG G2 will be available at T-Mobile stores starting September 9th, although the advertising campaign for the model isn't scheduled to start until September 25th. Keeping in mind that the above date is merely speculation, the nation's fourth largest carrier is now accepting pre-orders for the beast in black and white for $99 down and $21 a month for 24 months ($603). The white model can be bought online only. Forgetting a moment about the insiders and their September 9th date, other sources are pointing to September 18th as the release date for the LG G2 on T-Mobile.
Let's move on to the nation's largest carrier, Verizon. Big Red will sell you the LG G2 starting September 12th for $199.99. Of course, you will need to sign a new two-year contract. If you have an aversion to signing contracts, you will need to fork over six C notes for the device, and we're not talking about music.
And just as we were putting our fingers to QWERTY, slaving over a hot laptop to bring you this information, the owl from AT&T dropped off a very important parchment that contained that operator's information about the LG G2. Starting September 13th, AT&T will offer the LG G2 for $199.99 with a signed two-year pact. Those using AT&T Next can buy the phone for $27 a month. The exciting news here is that online sales of the unit begin tomorrow, September 6th, from the carrier's website (www.att.com/g2).
source: AT&T,
T-Mobile
, Verizon via
AndroidCentral